Stewartry Roll of Honour
Individual accounts of service
It is intended that this page will contain mini-biographies of men and women from Kirkcudbrightshire who served during WW1, including those men and women on Home Service duties. People may send information on their relative (with photo, if available), including family details and any stories relating to their service, and I will insert a brief biography.
If you would like your relative's story included, then please get in touch via the contact form. Thank you.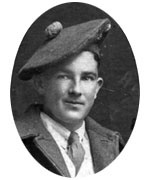 William Crossan
Private 41670 William Crossan, Royal Scots Fusiliers
- wounded in July 1918

Born 11th Apr 1899, Kirkcudbright, son of Michael Crossan and Jessie McKinlay. William married Margaret Wilson in 1924.

William was called up for service in 1917 and served on the Western Front with the with the Royal Scots Fusiliers. He received a shrapnel wound to leg in July 1918. He recalled that 'he hadn't realised he had been hit till he looked down and saw blood pouring down over his puttee. He sought permission to report to a Field Dressing Station but felt faint and ended up crawling through a field strewn with bodies. He said that he couldn't tell if the bodies were British or German. Eventually he passed out and he said that when he regained consciousness he was in a South African dug-out and they were giving him a cup of tea. Some shrapnel remained in his leg for the rest of his life.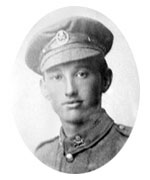 Tom Garmory
Sergeant 34834 Tom Garmory, 8th York & Lancaster Regiment
- Distinguished Conduct Medal, Italy

Born 1893 at Kirkcudbright, the third son of Mr and Mrs Adam Garmory, 61 Millburn Street, Kirkcudbright. Tom his apprenticeship as a grocer with Mr Dalziel, Castle Street.

He enlisted on 2nd June 1915 as Private 2985 with the 17th Highland Light Infantry. Tom landed in France in November 1915 and was wounded on 1st July 1916, the opening day of the Battle of the Somme. After recovering from his wounds, he was transferred to the 8th York & Lancaster Regiment and promoted to Sergeant. In 1918 he was awarded the Distinguished Conduct Medal for conspicuous gallantry:

For a long period during operations he was responsible for guiding ration parties to their destination each night, and in spite of very heavy hostile shelling, he succeeded in getting all rations and stores through. On many occasions he went out alone to find lost parties, and always showed a complete disregard of personal danger.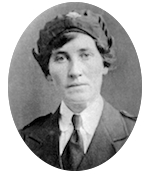 Margaret Gibson
Margaret Gibson, Voluntary Aid Detachment
- Mentioned in Despatches

Born May 1884, daughter of John Gibson and Marion Borland, Priestlands Farm, Troqueer.

Margaret was a member of the Voluntary Aid Detachment and saw service in France from 30 May 1916 to 23 Jan 1919. Few details of her service have survived but it is known that she served in a hospital in Rouen. Margaret was Mentioned in Despatches by Field Marshal Sir Douglas Haig, dated 8 Nov 1918 'for gallant and distinguished services in the Field'.

While serving with the VAD in France, Margaret worked with Helen Tudhope. This led to her meeting Helen's brother, William, the Director of Agriculture on the Gold Coast (now Ghana). Margaret married William Steel Dykes Tudhope on 7 Nov 1919, at Priestlands.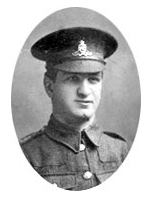 John Gordon
Driver 655664 John Gordon, Royal Field Artillery
- died 18th November 1918, Alexandria, Egypt, age 24

John Thomson Gordon was born in 1894 at Kirkcudbright, son of James Rae and Janet B. Gordon. John was employed in the Sheriff-Clerk's office with his brother-in-law, Mr H Livingston, sheriff-clerk depute.

John enlisted as Driver 4262 with the Kirkcudbrightshire Battery of the Royal Field Artillery just prior to its mobilisation on 5th August 1914. He proceeded with this unit, part of the 2nd Lowland Brigade, 52nd Division, to Egypt, landing at Port Said on 20th June 1915. He took part in the operations in Egypt and Palestine, and was latterly attached to Headquarters Staff, 7th Indian Division.

Mrs Gordon received a telegram on 14th November 1918 stating that her son was dangerously ill from malaria, this being followed on the 20th by news of his death from pneumonia. John is buried in Alexandria (Hadra) War Memorial Cemetery, Grave C. 261 and is commemorated on Kirkcudbright War Memorial. His three brothers served and returned, James (KOSB) and Alexander (RFA) on the Western Front and George (Royal Engineers) in Egypt.

Nurse Elizabeth (Bessie) Thomson, Kirkmabreck Voluntary Aid Detachment
- killed 30th September 1917, St. Omer, France

Daughter of Mr and Mrs Robert Thomson, St. John Street, Creetown. Member of Kirkmabreck Voluntary Aid Detachment.

Bessie volunteered for hospital service shortly after the outbreak of war and served at Old Mill Hospital, Aberdeen, before transferring to the 58th (Scottish) General Hospital at St. Omer, France. She was Mentioned in Despatches for her work. Bessie was killed by an enemy aircraft bombing raid on 30th September 1917. She is buried in Longuenesse (St. Omer) Souvenir Cemetery, plot VI.B.2 and commemorated on Creetown War Memorial.

Lines reverently dedicated to Bessie Thomson by John Barr, Creetown (abridged):

Proudly we laud the deeds of sons so gallant,
Bearing aloft the banner of the free,
Yet must our tongues but weakly falter
When we would seek fit words to speak of thee.

Bravely as e'er went warrior to Valhalla,
Nobly the cross you bore upon your breast,
Faithfull "The Lady of the Lamp" you followed,
Supreme in sacrifice with martyred Joan you rest.

Sweet be thy sleep, dear Sister of Mercy,
Calm thy repose where so lowly you lie,
Bright is the halo around thee forever,
Thou art of the dead who never can die.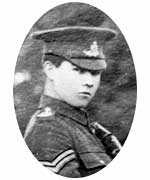 Robert Wilson
Sergeant 169890 Robert Wilson, Royal Field Artillery
- killed in action on 3rd October 1918, near Ypres, age 20

The second son of John Wilson and Jeannie Stewart, Robert Alfred Wilson was born in Anwoth, Kirkcudbrightshire in 1898. The family were raised in the Borgue district, latterly living at Chapleton Cottage.

Robert was employed as a farm worker on enlistment into the Royal Field Artillery in September 1914 and served on the Western Front and in Italy. He was killed in action while serving with 'D' Battery, 190th Brigade, RFA in October 1918; he is buried in Hooge Crater Cemetery, Grave XVI.B.2.

Alexander, Robert's only brother, also perished in the war. He was wounded at Gallipoli serving with the 1st KOSB and died from his wounds in No. 2 General Hospital, Craigleith, Edinburgh on 10th September 1916. Both brothers are commemorated on Borgue War Memorial.