3rd (Special Reserve) King's Own Scottish Borderers
Militia
The creation of the 3rd (Special Reserve) King's Own Scottish Borderers was a consequence of the major reorganisation of the British Army undertaken in 1908. The history of the Special Reserve is steeped in the traditions of the Militia.
The Militia, Yeomanry and Volunteer Force (see Galloway Rifles Volunteers) were all part-time, amateur outfits that were established to augment the home defences because the Regular British Army was comparatively small in continental European terms.
One consequence of the 1908 reorganisation of the British Army was that the Militia was abolished; the former Militia battalions were transferred to the Special Reserve. Accordingly, the 3rd (Militia Battalion), King's Own Scottish Borderers ceased to exist, being replaced by the 3rd King's Own Scottish Borderers (Special Reserve). The new battalion continued to operate from its headquarters in Dumfries.
During WW1 the role of the former militia battalions was to provide replacement drafts for the regular battalions, and further into the war, the new Service battalions.

Dumfrieshire Militia/Scottish Borderers
Even by the end of the 19th century the Dumfriesshire Militia was able to look back on a long history; the first staff and officers were gazetted on 1st May 1798. The title, Dumfrieshire Militia, was a misnomer because in addition to Dumfriesshire, this regiment was raised in the counties of Roxburgh and Selkirk. In 1860 the addition of Kirkcudbrightshire to the regimental district renewed the naming debate, resulting in the regiment being accorded the title The Scottish Borderers in 1864. Thus the regiment had the honour of being the first to bear this now famous name on their colours.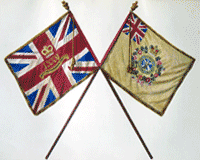 In 1881 militia regiments were redesignated as the 3rd (and in a few cases 4th) battalion of the regular infantry regiment for that particular recruitment area. In 1887 the Scottish Borderers was renamed the 3rd (Militia) Battalion, King's Own Scottish Borderers; it was under this title that the Battalion was embodied during the South African (Boer) War, for the period 25th January 1900 to 18th June 1902. Two officers and thirteen men died in service during this time. A brass tablet memorial commemorating these men was erected in Greyfriars' Church, Dumfries.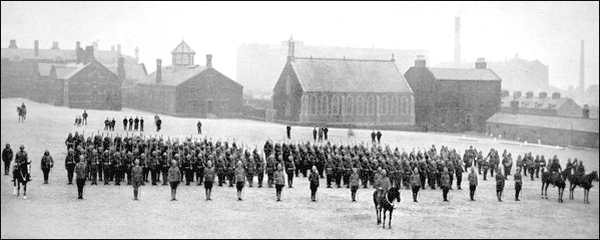 After their return from South Africa, the Battalion continued to recruit and train, and everything carried on as normal until the enforced change brought about by reorganisation in 1908.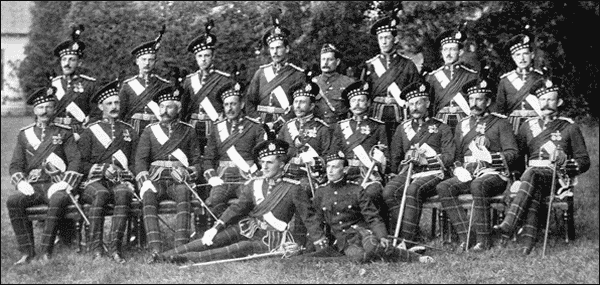 A number of these officers of the 3rd (Militia Battalion), King's Own Scottish Borderers in 1906 went on to serve in WW1.
The complete story of the Dumfriesshire Militia/Scottish Borderers is told in The History of the 3rd Battalion King's Own Scottish Borderers 1798-1907 by the Rev. R.W. Weir, D.D. (published in 1908 by The Courier & Herald Offices, Dumfries).