The Stewartry Roll of Honour in the Great War, 1914-1918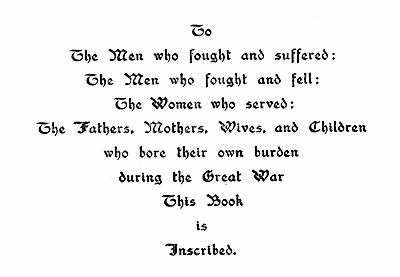 Aim
Publish a Roll of Honour for the men and women of Kirkcudbrightshire who served their country in World War One.
Context
In 1927 the owner of the local newspaper, the Kirkcudbrightshire Advertiser (the forerunner of the Galloway news), J.H. Maxwell, Castle Douglas, published "The Stewartry Roll of Honour in the Great War, 1914-1918" in recognition of the "natives of the Stewartry of Kirkcudbright, and residents living in the County at the time of enlistment" who served their country in WW1.

The newspaper sent out forms to every parish within Kirkcudbrightshire and details were "furnished by the parties themselves or by near relatives". However, some people could not be traced or simply did not return their forms and so are listed by name and place of birth or residence only. Over 6,000 men and women are named, with brief details of service given in approximately 4,000 cases. The publisher's original intention was to include a photo of all those who died in service or were recipients of gallantry/meritorious service awards, but costs proved to be prohibitive.
The Roll was set out in alphabetical order and then subdivided into Officers, NCOs, Privates, and Women. For individuals where no details were returned, a list of names and their town/area of residence was appended at the end of each alphabetical section.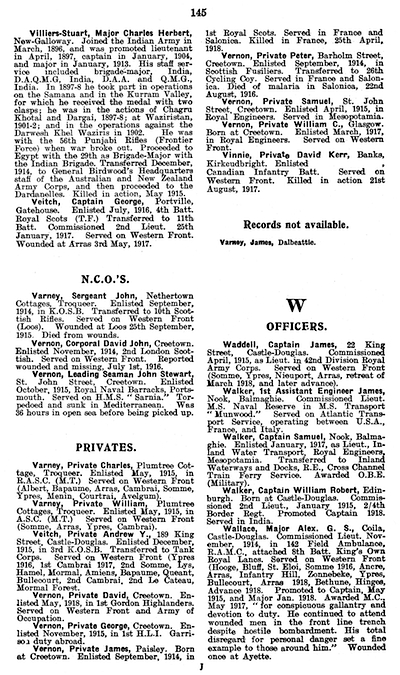 Although the entries were reasonably consistent in terms of the type of information given, the detail provided varied greatly, as the entries on the example page above demonstrate.
Project
The updated version will display a more consistent treatment of service details and include the individual's service number(s) if known. In the cases of those who died as a result of their war service, additional burial and commemoration information will be given. Where known, brief family details will be stated, i.e., son/daughter/husband of ....
Perhaps the major addition will be the inclusion, if available, of a contemporary photograph (head and shoulders), preferably in uniform. Finally, the names will be listed in alphabetical order, with no subdivisions based on rank or sex.
How you can help
Do you have photographs of, or information on, family members from Kirkcudbrightshire who served in the Great War? If so, then please use the contact form to get in touch. Please note that these projects are not limited to those who died; information on all men and women who served would be very much appreciated. Thank you very much for your help.