Auchencairn Nominal Roll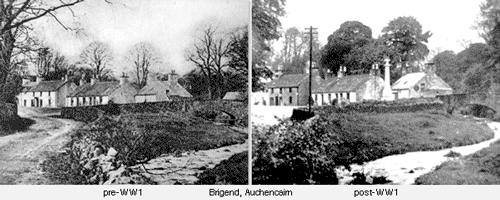 The men and women of Auchencairn who returned
The men and women who returned to Auchencairn saw a few changes in the village in the years following the war. The photographs above illustrate two of the most significant changes: the war memorial has been erected, and towering over it a few yards away stands a large electricity pole.
It is a fact of Great War research that it can be much more straightforward to find information on the men and women who died than it is for those who served and returned. At the outset of this project I knew very few names of men from our village who served and returned home. However, my research has uncovered many more Auchencairn service men and women, allowing more names to be added to the short list with which I started. The three Nominal Roll pages, surnames A-H, surnames J-M and surnames O-W, list the names found so far. It is my intention to include brief details (and photo if available) of all those who served. Therefore, this will be a comprehensive account of village's response to the Great War.
How you can help
Please read through the pages and information given, and if you can provide photos/information relating to any of these men and women, then please get in touch via the contact form.