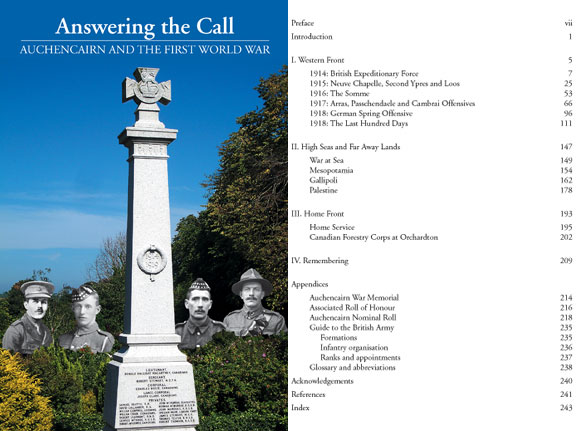 Answering the Call: Auchencairn and the First World War
hardback, with jacket sleeve
256 pages
over 100 photographs (b&w and colour)
£15.00 (including postage)
More than 150 men and women from Auchencairn served during WW1; a complete nominal roll details each person's connection to Auchencairn, along with a summary of their war service. The book is arranged by 'theatre of war', with each set of stories placed in context by an introduction summarising that particular period and area of the war. The main focus of the book is the lives and fate of those who died; the eighteen men named on the village memorial and seventeen men with links to Auchencairn who are commemorated on memorials elsewhere. Other stories tell of those wounded in action, or relate the deeds of those recognised for gallantry in the field or meritorious service towards the war effort.
Recognition for acts of gallantry or meritorious service include a knighthood for services on behalf of fellow prisoners of war, a Tank Corps officer's Military Cross and Bar, a Distinguished Conduct Medal (KOSB) and five Military Medals - two with the Glasgow Highlanders (1/9th HLI) and one each with the Machine Gun Corps, Royal Army Medical Corps and Royal Engineers.
Dr David Devereux, Stewartry Museum, published a complimentary review in his monthly column for the Galloway News. A local resident has posted the review on the Scottish War Memorials Project web site.
The remaining few copies of the book are available from Auchencairn Post Office. If you don't live in the area and wish to order this book, please get in touch via the contact form.